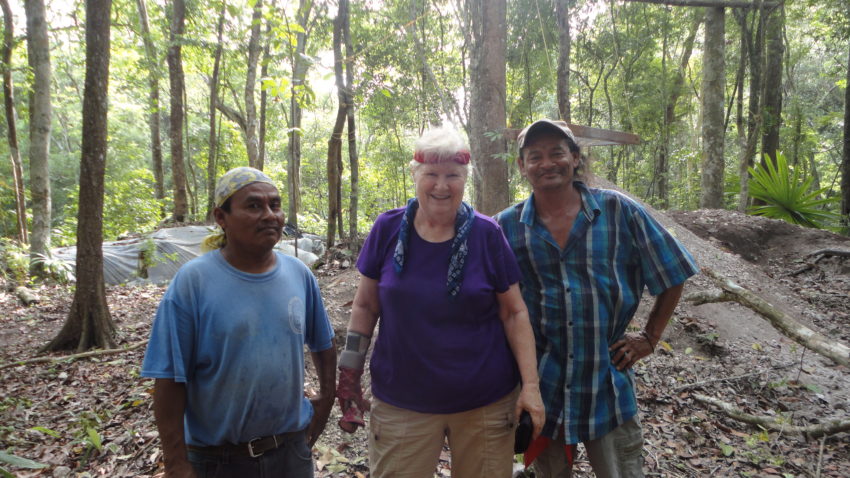 When friends heard I was going to Belize, they spoke of the beaches, snorkeling and scuba diving, and were envious of my destination. But my destination was the rain forest, not the beaches of the Caribbean. I knew it would be humid, hot and buggy. It was the beginning of the rainy season. I was not surprised to feel the humidity as soon as I set foot on the tarmac. Having lived in Arizona for the past seventeen years, humidity would be my nemesis. Unfortunately in my two weeks's stay, I never acclimated to the humidity. Within minutes of walking in the forest, I was drenched, not from rain, but from perspiration. A bandana around my head and one around my neck were wringing wet all day long. I do wish I had brought hand towels for better absorption and a cooling wrap for my neck.
I took three bottles of insect repellent and used two during my stay. This was not so much for mosquitoes. It was for all the other bugs, especially chiggers. I was not prepared for these microscopic buggers who attacked my ankles with a vengeance. I couldn't find hiking boots comfortable enough and wore hiking shoes. Unfortunately they left my ankles protected only by socks which weren't enough. Some of my fellow diggers suggested dryer sheets which did seem to help against further ankle bites. The day I got home they had spread to my fingers, hands and arms, probably from scratching. I drenched myself with rubbing alcohol which seemed to stop the spreading. What would I have done differently? I would have brought more tightly woven socks and dryer sheets. I would have packed sulfur powder. I should probably add hiking boots, but honestly, I'm a penny pincher and wouldn't spend the money for something I probably wouldn't use again. A hiker I am not.
I wasn't prepared for the change in diet. I usually have a smoothie of Greek yogurt and fruit for breakfast and salads or veggies with chicken or tuna for dinner. My body was assaulted by all the rice and beans and lack of vegetables. I craved vegetables. There's no delicate way to say I had intestinal distress. And bathroom facilities in the forest were nonexistent… ribbons designated a bathroom area. We were told to drink lots of water, but water makes you pee. I tried to balance my intake versus having to crouch behind a tree. I'm not sure what I could have done other than pack dried fruits and vegetables.
Lastly, I hadn't continued my strength training and wished that I had. We filled five gallon buckets with dirt or rocks and carried them twenty feet or so to either be sifted or dumped in a pile. Although I was able to lift and carry forty pound water bottles to set in water coolers where I volunteered, I had difficulty carrying these buckets, even two thirds full. I was envious of the "youngsters" and men close to my age who threw the pails on their shoulders, dumped them in the screens and sifted for the pottery sherds and obsidian. I do believe the cardio training enabled me to keep up the stamina. There were only two days where by the end of the day, I wanted to drop, but that was probably as much from the humidity and the heat.